Not your average
maui vacation rental company
1,500 condos - owner direct rates - no booking fees
J. Rupae, Lake Oswego OR

I was extremely pleased and impressed with Glen and his prompt attention. Out of at least a dozen of what appeared to be "like companies" whom I reached out to in my extensive research, Glen was the only one who actually responded to my inquiry!!! He provided several suggestions (including lot's of pictures) of condo's that all fell within our budget and our desires; and all within a couple of hours of my initial inquiry. He was very personable, listened to what I was looking for, and showed genuine interest in my stay. I would highly recommend Glen and Maui Holiday.com, as there simply is no comparison!!!

T. Liamson, Seattle WA

Just wanted to tell you that the condo was excellent. I would highly recommend it to my friends. It was clean, well furnished, great view. Good job recommending this one to us. We had a great vacation.

C.S. Gibson, Kelowna BC

We had another great holiday in Maui booked by the crew at Maui Holiday.Com. All of the arrangements were perfect and the service was great! Would highly recommend this company!
Maui Reservation Specialists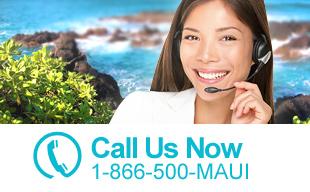 ---